Discover more from Zoom
Zoom delivers a diversity of current affairs & technology stories by email. NewsNeat is a weekend read, Zoom Tech Insights & Special Articles are delivered anytime.
💼 NewsNeat Weekend Read #10
Immigration Trauma Continues, North Korean News, Baby Time!
Apologies for the delay, I was at a funeral last week for my cousin Talei Roimata Morrison. Moe mai e te whanaunga rangatira (sleep well my fond cousin). This is a two-week edition, covering events since June 10. Ed: - Kingi
---
The American government separated 1,995 children from their parents at the Mexican border in 6 weeks
​​​​​​​The family separations are the result of a new, stricter policy put in place by President Trump in April. On Wednesday, he changed the policy to allow families detained in the future to stay together. Both decisions were executive action; Congress hasn't changed any laws.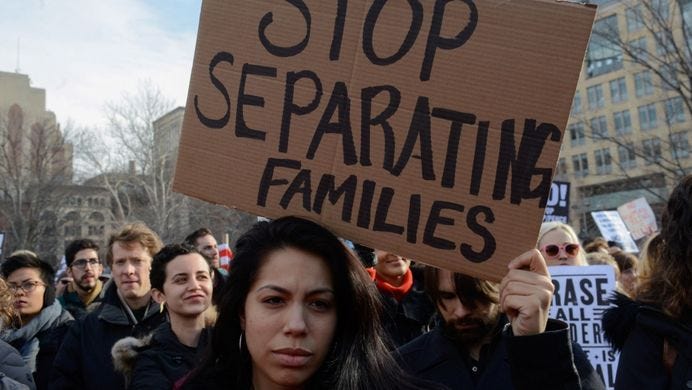 When the border patrol catches an adult crossing illegally, there are generally three potential courses of action:
The person can be deported without criminal charges. 

The person can be charged with a misdemeanor but remain free on parole until trial (allowing them to stay with any family members who accompanied them).

The person can be charged with a misdemeanor and jailed until their trial (and separated from their children) unless they post bail. 
Under Bush, Obama and Trump's previous policy, most people with children experienced one of the first two options, which allowed them to continue to care for their children. In April, President Trump and the Justice Department chose to use a stricter interpretation of the existing law, which meant almost all adults were jailed after being captured. When adults are jailed, their children go into temporary government custody, usually in detention facilities in repurposed warehouse buildings with chain-link-fence enclosures that resemble cages or jail cells.
The severity of the mis-demeanor charge for first-time improper entry is roughly equivalent to driving while intoxicated or possessing marijuana in Texas. Defendants generally plead guilty and are deported without additional jail time; this legal process is usually performed with dozens of defendants appearing before one judge for a few minutes.
Last year, border police arrested 310,000 people attempting to cross the Mexican border. Border arrests have been trending downward over the past 18 years (there were five times more arrests in 2000 than in 2017) and are now at a 46-year low.
​​​
---
President Trump met North Korean leader Kim Jong-un in Singapore
Instead of routine U.S. media coverage, for a totally different spin, I thought you might like to check out some of the North Korean news coverage from SBS.
It's the first time sitting leaders of the two countries have met in person. Both sides agreed to pursue nuclear disarmament of North Korea, and American and South Korean leaders said the meeting would result in a reduction of the threat posed by the North.
North and South Korea have been in a tense armistice since 1953, when fighting ended in the Korean War. In the past few years, North Korea has made breakthroughs in its nuclear weapons research and produced missiles that could strike the U.S., Europe and Australia. Kim Jong-un is a hereditary dictator, and although there's very limited access to the country, it's generally agreed that its isolation has resulted in food shortages, widespread poverty and reduced life expectancy among its population.
---
On the Radar:
Paul Manafort, the chairman of Donald Trump's presidential campaign, is in jail. 
A judge revoked his bail after prosecutors said he attempted to influence witness testimony in his upcoming trial for financial crimes.
FBI Under Scrutiny
The Justice Department published the results of its investigation into how the FBI handled the Hillary Clinton e-mail investigation during the 2016 campaign. The report said that the FBI's decision not to charge Clinton with a crime was not politically motivated. It also said that the behavior of the FBI director (who made public statements about the investigation that influenced the election) and the attorney general (who met with Bill Clinton during the investigation) was inappropriate but not illegal. 
Violence in Yemen's Civil War Increased
An international military coalition led by Saudi Arabia attacked a city held by Yemeni rebels. The war has killed about 10,000 people since 2015 and, like the Syrian civil war, has become a proxy for the regional conflict between Iran and Saudi Arabia.
Soccer World Cup Started
The World Cup is underway in Russia. 
NBA Champs
In basketball, the Golden State Warriors (from Oakland, California) won the NBA Finals. It's their third championship in four years. 

---
Last Words: Baby Time!
The prime minister of New Zealand, Jacinda Ardern, gave birth to her first child. She's the second head of state to give birth while in office; the first was the prime minister of Pakistan in 1990. Jacinda Ardern will take six weeks off before handing the day to day childcare to her partner Clarke Gayford.
Ed Opinion: Super courageous woman (and family) to endure the prying eyes of the press and public in a time usually sacred to the family.