Discover more from Zoom
Zoom delivers a diversity of current affairs & technology stories by email. NewsNeat is a weekend read, Zoom Tech Insights & Special Articles are delivered anytime.
💼 NewsNeat Weekend Read #6
Max Thunder, Love Hate, Analysis of Propoganda, Open & Free Internet
It is near impossible to avoid U.S. politics in the news but I do have coverage from other nations perspective on the U.S. These were the stories catching my attention this week. Ed: Kingi.
---

The Internet Remains Free … For Now
Internet users and freedom activists won this week as the U.S. Senate approved a resolution nullifying the Federal Communications Commission's (FCC) rollback on net-neutrality. This roll-back stops telecommunications companies (Comcast, AT&T, Verizon) from slapping toll-charges and roadblocks on heavy traffic sites (such as Netflix), and also prevents them from opening up expensive high-speed data lanes.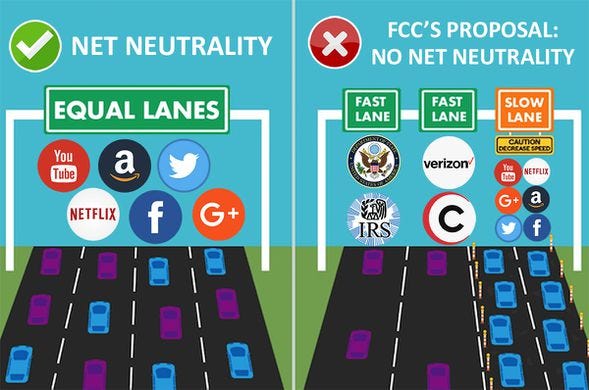 The deep-pocketed telecommunications industry (Comcast, AT&T, Verizon) has spent $101 million lobbying lawmakers and cultivating allies in Congress (paying them off) to be able to charge users more for content that competes with their parent company businesses. Here's the top 10 :
Blunt, Roy (R-MO) — $1,283,416
McConnell, Mitch (R-KY) — $1,119,163
Thune, John (R-SD) — $928,428
Burr, Richard (R-NC) — $733,127
Grassley, Chuck (R-IA) — $727,219

A full-list for the $101 million is located at The Center for Responsive Politics, an independent, non-partisan nonprofit research group that tracks money in U.S. politics.
Also, for the past several weeks, an organisation known as 'Taxpayers Protection Alliance' has been running ads on social media urging people to contact their elected officials and ask them to vote against Senate Democrats' efforts to overturn the FCC's decision to deregulate broadband. TPA bills itself as a middle-of-the-road, unbiased source of information, but is actually funded by the telecommunications industry (Comcast, AT&T, Verizon).
---
Love Hate Love Hate
The U.S. is the first country to open an embassy in Jerusalem, but as we reported last week, the U.S. is also an incubation ground for pro-Nazi groups. This week Ivanka Trump celebrates the new U.S. Embassy in Jerusalem …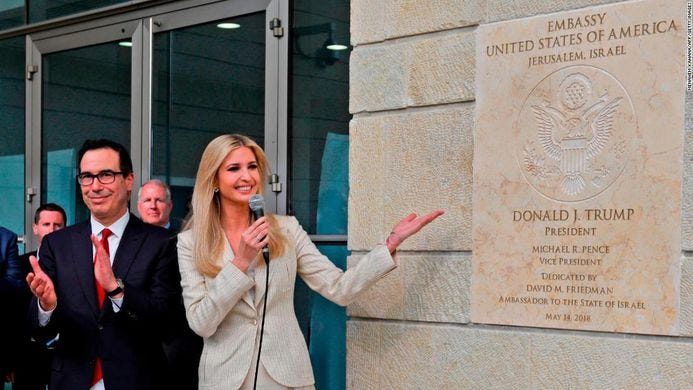 … while right-wing pro-Nazi fundamentalists recruit youth.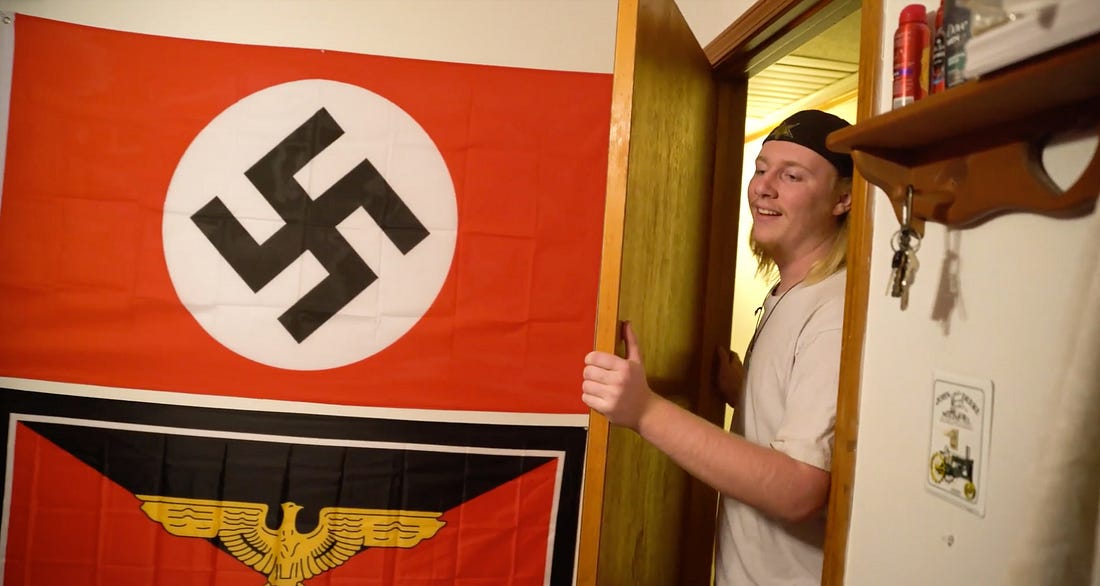 In Jerusalem, politicians and officials celebrated:
Israeli Prime Minister Benjamin Netanyahu: "What a glorious day... President Trump, by recognising history, you have made history..."
Jared Kushner: "As we have seen from the protests of the last month and even today those provoking violence are part of the problem and not part of the solution."
In the U.S., Atomwaffen members, a militia, believe the U.S. government is controlled by a secret cabal of Jews. Guess who is in that notorious hate group? Active-duty U.S. military, some with sophisticated weapons training.
"The army itself woke me up to race and the war woke me up to the Jews," Beckett "The US military gives great training…you learn how to fight, and survive."
Sadly, this historic day for the U.S and Israel was marked by the deaths of Palestinians at the Gaza-Israel border.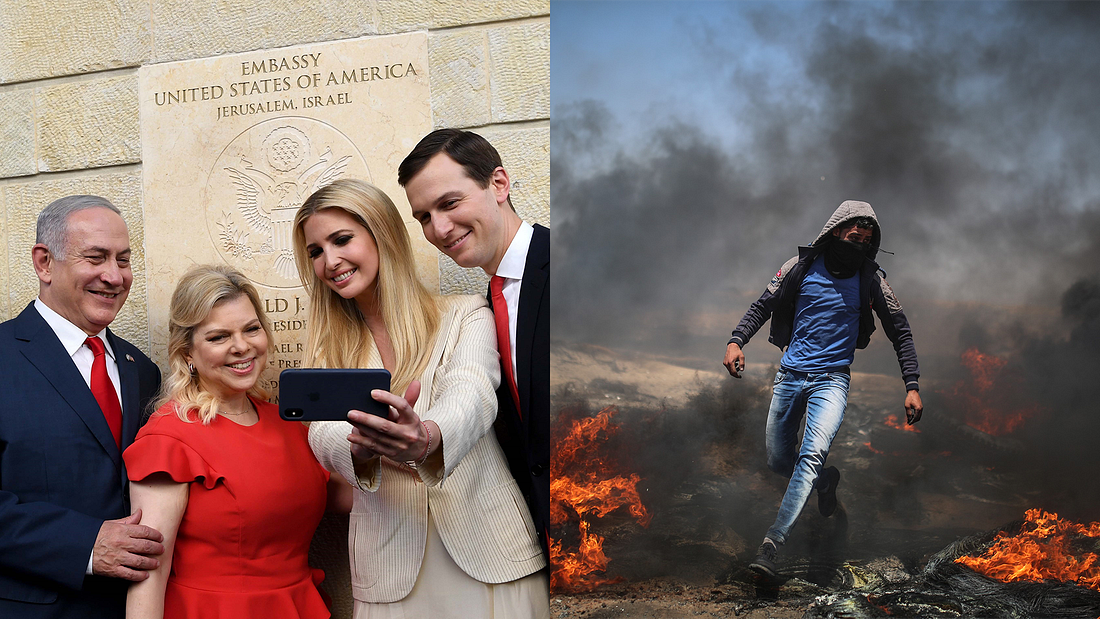 The Israeli military killed 60 people, and 2,700 people were injured. Tens of thousands of Palestinians protested along the border that Israel shares with Gaza (governed by Hamas). According to reports, many set tires on fire, some are accused of shooting at soldiers and planting or hurling bombs.
"The Israeli military said that some in the crowds were planting or hurling explosives, and that many were flying flaming kites into Israel..."
"By mid afternoon, the protest nearest to Gaza City had turned into a pitched battle — a chaotic panorama of smoke, sirens and tear gas that stretched along the fence."
The United Nations says Israel and Hamas need to keep their cool. All other foreign embassies are located in Tel Aviv (not Jerusalem) because Palestinians claim part of Jerusalem as their territory and want it to be the capital of a future independent state.
---
Analysis: Russian Facebook Propaganda
Adam Schiff, D-Calif., the minority leader of the House Intelligence Committee, made 3,500 ads available to the public so that academics could study both the intention and breadth of the targeting. Analysed by USA Today: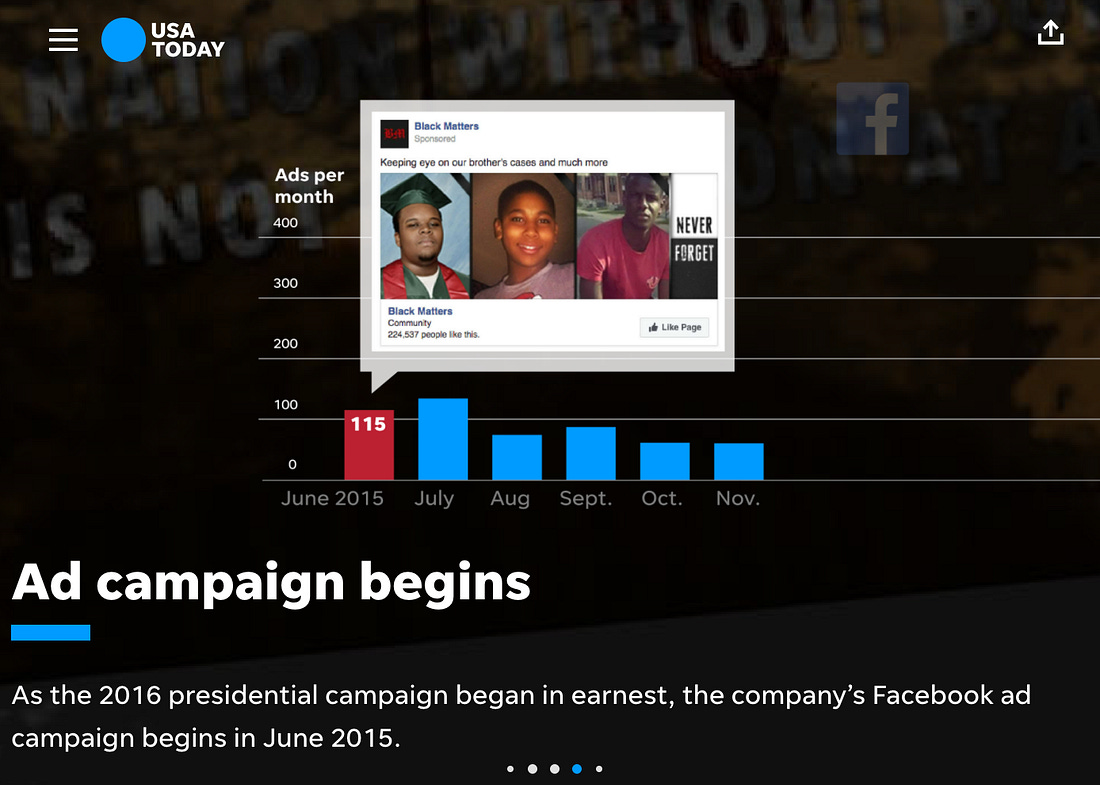 "These ads broadly sought to pit one American against another by exploiting faults in our society or race, ethnicity, sexual orientation and other deeply cynical thoughts,"
Schiff said in an interview with USA Today.
"Americans should take away that the Russians perceive these divisions as vulnerabilities and to a degree can be exploited by a sophisticated campaign."
Among the findings:
Of the roughly 3,500 ads published this week, more than half — about 1,950 — made express references to race. Those accounted for 25 million ad impressions — a measure of how many times the spot was pulled from a server for transmission to a device.

At least 25% of the ads centered on issues involving crime and policing, often with a racial connotation. Separate ads, launched simultaneously, would stoke suspicion about how police treat black people in one ad, while another encouraged support for pro-police groups.

Divisive racial ad buys averaged about 44 per month from 2015 through the summer of 2016 before seeing a significant increase in the run-up to Election Day. Between September and November 2016, the number of race-related spots rose to 400. An additional 900 were posted after the November election through May 2017.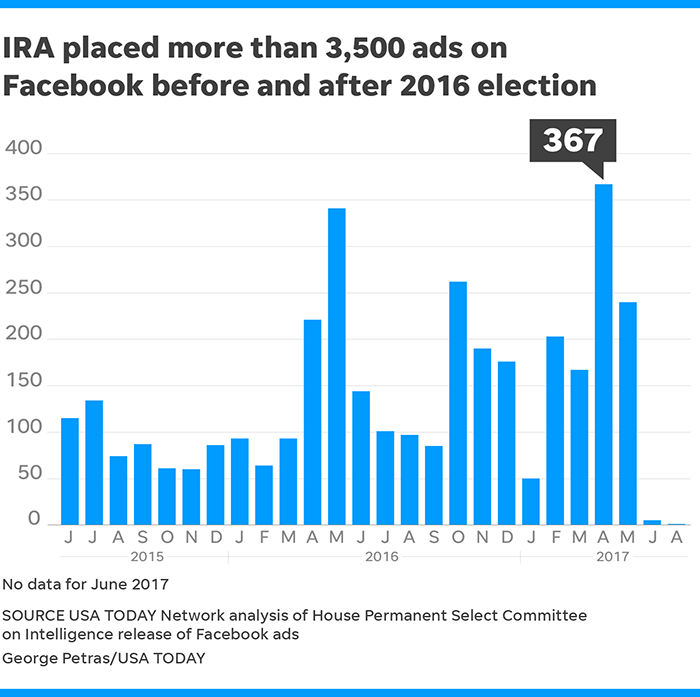 A federal grand jury in February indicted 13 individuals accused of working for the Internet Research Agency to produce the ads. The charges related to meddling in the 2016 election, the only election interference case Mueller's office has filed so far.
Young Mie Kim, a University of Wisconsin-Madison researcher says the Russians are attempting to destabilize Western Democracy by targeting extreme identity groups.
"Effective polarization can happen when you're promoting the idea that, 'I like my group, but I don't like the other group' and pushing distance between the two extreme sides … And we know the Russians targeted extremes and then came back with different negative messages that might not be aimed at converting voters, but suppressing turnout and undermining the democratic process."
---
In brief:
Beasts in Human Form
Catalonia swore in its new president. Catalonia is the semi-autonomous part of Spain that includes Barcelona. Last year, the region voted to break up with Spain. Spain responded by firing the regional governor, then Catalonia's president fled the country. Earlier this week, Catalonia's new parliament voted in a new president... by one vote. He's for Catalan's independence and has described anyone who's against Catalan culture as "beasts in human form."
More Guns, More Problems
The Russian government used the National Rifle Association to help Trump's campaign, according to a report from the Senate Judiciary Committee. The report suggests that the Kremlin used the NRA as a back channel to secretly fund Trump's campaign. The NRA spent a record $30 million on Trump, which the FBI is reportedly investigating because U.S. law prohibits foreign money from being used on elections.
Ebola In The Democratic Republic of Congo. 
There's been an Ebola outbreak there, with dozens of reported cases so far. More than 20 people have died. And health officials just confirmed the first Ebola case in a major city there - with a population of more than a million people.
Guns Down Under
In Australia, seven members of the same family were killed in the country's worst shooting since 1996, when the country implemented strict laws against gun ownership.
Discotech Rampage
In Paris, a man killed one person and injured four with a knife in a popular nightlife district. Police killed him at the scene; they said he was a French citizen who was born in Chechnya and that he had previously been interviewed by anti-terror police.
So Sad - Why the Children?
In Indonesia, 13 people have been killed in three separate attacks on churches and police stations. Police have attributed the attacks to the Islamic State and related organizations, and in two cases the attacks were carried out by parents who committed suicide bombings with their young children present.
---
Coming Up:
"Max Thunder" Tension for North Korea
The annual military exercise 'Max Thunder' between the U.S. and South Korea has had a significantly detrimental effect on the peace discussions with North Korea as Pyongyang called off talks with South Korea and warned the U.S. that the historic Singapore North Korea-U.S. nuclear summit may be cancelled.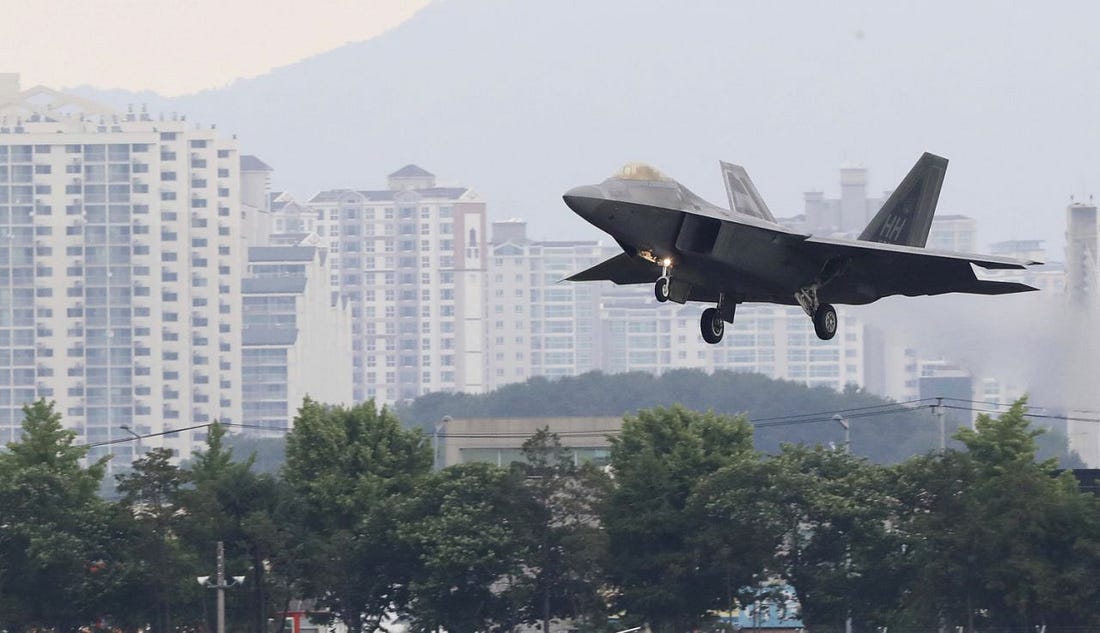 Source: Yahoo: A U.S. F-22 Raptor stealth fighter jet lands as South Korea and the United States conduct the Max Thunder joint military exercise at an air base in Gwangju, South Korea, Wednesday, May 16, 2018. 
North Korean government news agency KCNA on Tuesday slammed the Max Thunder military exercise as an 'intentional' military provocation:
"This exercise targeting us, which is being carried out across South Korea, is a flagrant challenge to the Panmunjom Declaration and an intentional military provocation running counter to the positive political development on the Korean Peninsula. The United States will also have to undertake careful deliberations about the fate of the planned North Korea-U.S. summit in light of this provocative military ruckus jointly conducted with the South Korean authorities."
Josh Pollack, editor of the non proliferation review, says North Korea objects to Trump's maximum pressure stance. The Pentagon says that exercises were routine:
"While we will not discuss specifics, the defensive nature of these combined exercises has been clear for many decades and has not changed."  Pentagon
Speaking to reporters at the White House, Trump said Xi "could be influencing" the North's leader, Kim Jong-un. China dismissed U.S. President Trump's assertion Friday that President Xi Jinping might be behind North Korea's sudden shift to a recalcitrant attitude. Lu Kang, spokesman for China's foreign ministry, said
"Although other countries change their stances in a zigzag, that of China remains unchanged … China has maintained supportive efforts for the de-nuclearization of Korea via dialogue and to establish peace and stability in the region … (we) are paying attention to the U.S. attitude to respect North Korea's security concern and desire a solution … The essence of the Korean Peninsula issue is security."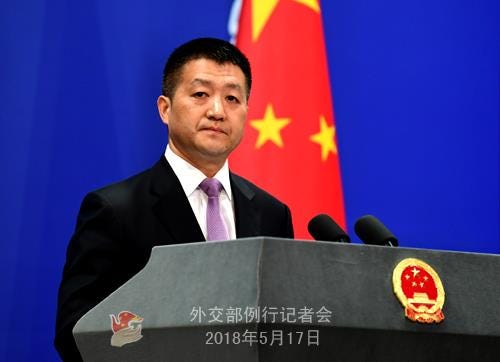 North Korea's first vice foreign minister Kim Kye Gwan criticized recent comments by Trump's top security adviser John Bolton and other U.S. officials:
"We will appropriately respond to the Trump administration if it approaches the North Korea-U.S. summit meeting with a truthful intent to improve relations. But we are no longer interested in a negotiation that will be all about driving us into a corner and making a one-sided demand for us to give up our nukes."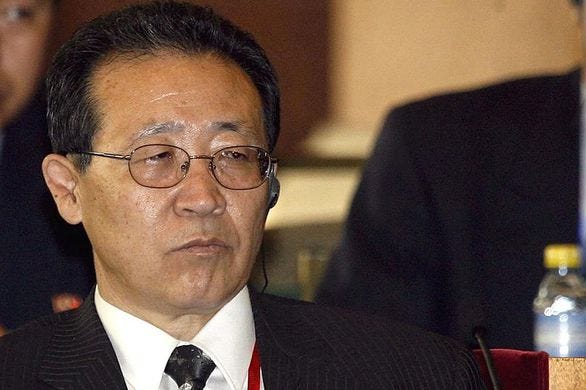 ---
Last bits 'n bytes:
One of Jupiter's moons has water and they are going to test it for micro-organisms (alien life).

Britain's Prince Harry and American actress Meghan Markle (from TV series 'Suits') will be married this weekend.

Google A.I phone calling technology freaks out the most sceptical folks for the wrong reasons, first listen to it here:

"My sense is that humans in general don't mind talking to machines so long as they know that they're doing so. I anticipate significant negative reactions by many persons who ultimately discover that they've been essentially conned into thinking they're talking to a human, when they actually were not. It's basic human nature -- an area where Google seems to have a continuing blind spot."

… will keep you in-touch with developments.