Discover more from Zoom
Zoom delivers a diversity of current affairs & technology stories by email. NewsNeat is a weekend read, Zoom Tech Insights & Special Articles are delivered anytime.
💼 NewsNeat Weekend Read #9
G7 Summit, Super Bowl Champs Refuse Trump, Suspicious Illness in China
Really appreciate the feedback and comments. Enjoy this weeks NewsNeat! Ed: Kingi
---
44th G7 Summit
The seven nations Canada, France, Germany, Italy, Japan United Kingdom, United States, European Union met on June 8–9, 2018, in La Malbaie, Quebec, Canada.
The summit was dubbed the "G6+1" by the French government and political commentators. This name was because the United States withdrawing from the Iran Deal, the Paris Agreement, have been rampant in promoting American protectionism, and Trumps fights with both French President Emmanuel Macron and Canadian Prime Minister Justin Trudeau.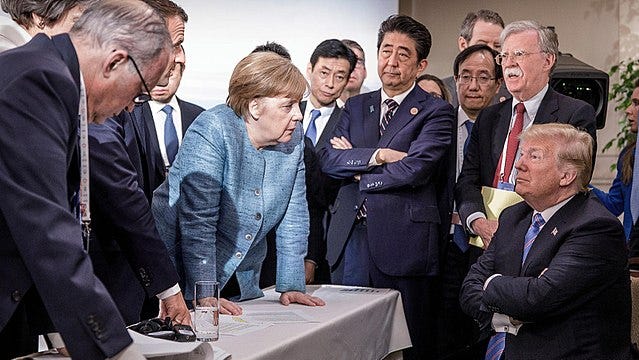 Trump left the summit early in order to travel to Singapore for an upcoming meeting with North Korean leader Kim Jong-un. On 9 June 2018, he tweeted that he has instructed the "U.S. Reps not to endorse the Communique" and that:
"PM Justin Trudeau of Canada acted so meek and mild during our @G7 meetings only to give a news conference after I left saying that, "US Tariffs were kind of insulting" and he "will not be pushed around." Very dishonest & weak."
On the first day of the summit, the United States announced that it would push for the reinstatement of Russia. Italy also requested a restoration of the G8 shortly after. Overall, the summit received significant attention due to a significant decline of relations of members with the United States.
---
Super Bowl Champs Refuse to Meet Trump
Fewer than 10 members of the NFL team planned to attend the event to meet President Trump on the South Lawn at the White House on Tuesday afternoon. Nearly all the Eagle's players and coaches were due to boycott the visit following Mr Trump's demands that players stand during the national anthem at games even though none of the Eagles took a knee during the anthem in 2017.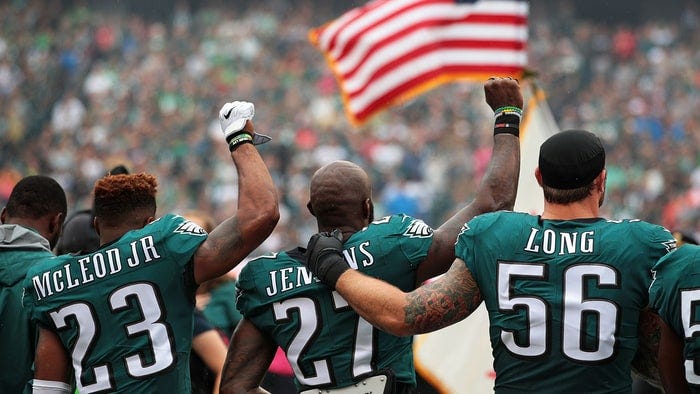 One of the people set to attend the ceremony told The Associated Press fewer than half of the players planned to go. The person spoke on condition of anonymity due to the sensitive nature of the decision.
Philadelphia mayor Jim Kenney replied with his own statement, saying that he is "equally proud of the Eagles' activism off the field" and that the players "represent the diversity of our nation — a nation in which we are free to express our opinions".
"Disinviting them from the White House only proves that our president is not a true patriot, but a fragile egomaniac obsessed with crowd size and afraid of the embarrassment of throwing a party to which no one wants to attend," Mr Kenney said.
Last week, Eagles safety Malcolm Jenkins said he would not attend the ceremony because he did not want to be part of a photo op and wanted "to avoid being used as any kind of pawn." In addition to Jenkins, defensive end Chris Long was the most outspoken player against going. 
Mr Trump has repeatedly decried the players' protest, referring to them as "sons of bitches" who should be fired at a rally for supporters in Alabama last year. Last month, the NFL announced a new policy - praised on Twitter by both Trump and Pence - requiring players to stand for the anthem if they're on the field before a game.
---
Suspicious Illness in China
In China, two international diplomats have a strange illness (similar to one seen in Cuba last year). The U.S. government says it doesn't understand the cause or exact nature of the illness or injury, which has affected two Americans in China and 29 Americans and Canadians (including spouses of embassy staff) in Cuba. Many victims reported hearing a strange sound and then experiencing prolonged nausea, dizziness, hearing loss and neurological problems.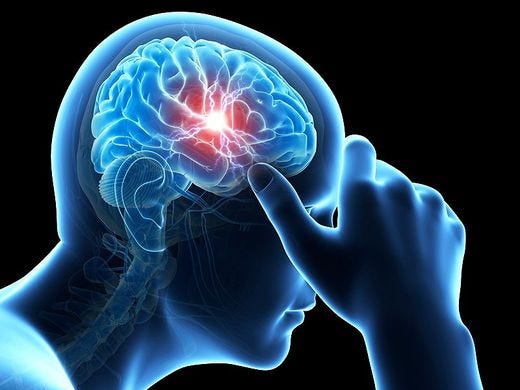 On May 23, the State Department issued its first public remarks on the case, a health warning stating that an unnamed "U.S. government employee in China recently reported subtle and vague, but abnormal, sensations of sound and pressure," and urging anyone with "concerns about symptoms or medical problems that developed during or after a stay in China" to "consult a medical professional."
This is a delicate moment in U.S.-China relations. The Trump administration has been pressing Beijing hard on trade, even as it has been relying on the Chinese to help bring North Korean leader Kim Jong Un to the negotiating table. A widening scandal involving the possible mistreatment of U.S. diplomats would not help relations.
---
On the Radar:
Canada Legalize Marijuana
Canada will be the largest country to fully legalise the sale and possession of recreational marijuana at a national level. Uruguay legalised marijuana in 2013.
Guatemala Volcanic Eruption
near the capital city killed at least 99 people; hundreds remain missing. 
Kilauea Volcano Still Going
In Hawaii, new lava flows destroyed more than 200 homes in addition to 117 that have been destroyed since the Kilauea volcano started erupting on May 3. There were no injuries related to the latest property damage because residents had evacuated. 
NBA Champs 2018: Golden State Warriors
For the second-straight year and third time in four seasons, the Golden State Warriors are NBA Champions after defeating the Cleveland Cavaliers 108-85 in Game 4 of the 2018 Finals on Friday night.
---
Coming Up…
Will they actually meet?
The meeting between President Trump and North Korean leader Kim Jong-un is back on after weeks of uncertainty. It's scheduled for June 12 in Singapore.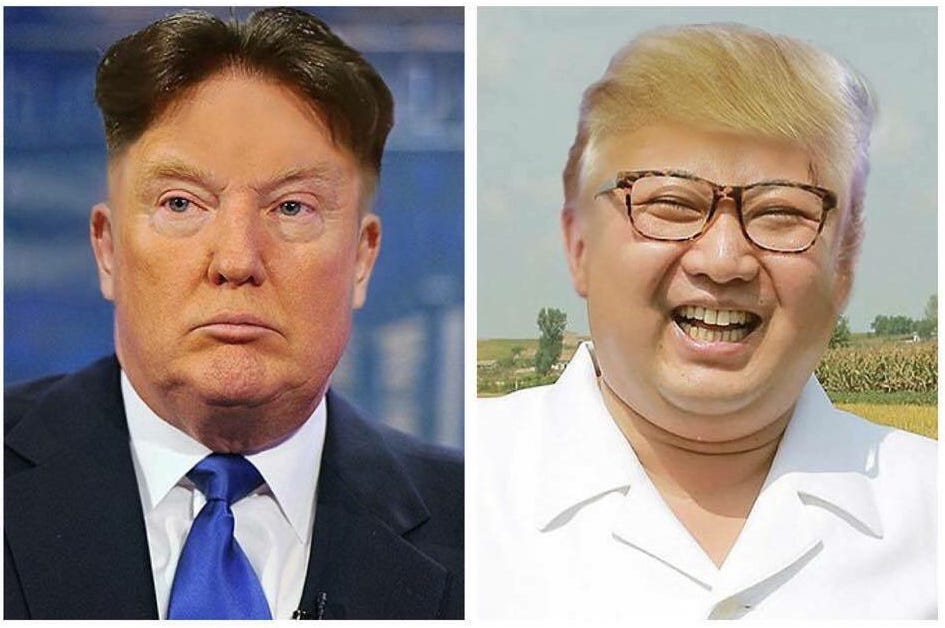 New Cryptocurrency Based Journalism Launching
On Monday, June 11, Documented and Sludge will become the first two Newsrooms to begin publishing on Civil. They'll be followed shortly thereafter byZigZag, which will premiere its first two podcasts next Thursday, June 14. Check-em out!